One Night with Nikki Glaser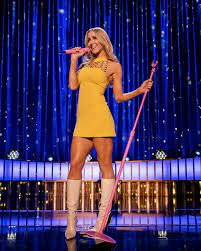 Nikki Glaser is one of the funniest female voices in comedy today. For over a decade at clubs across the country, and as the host of three hit podcasts, she has been honing her shockingly-honest, no-holds-barred style of comedy. Nikki has multiple stand-up specials and late-night TV appearances in which she jokes about her most humiliating moments as a woman in the modern world. She has become a complete open book on mic, and not just for the laughs. She's adamant about being the empowering voice for women that she yearned for as a confused adolescent.
Nikki was a standout at the Comedy Central Roasts of Alec Baldwin, Bruce Willis and Rob Lowe, which led to her guest-hosting Jimmy Kimmel Live! She also had memorable film and television roles in Judd Apatow's Trainwreck, AP Bio, and Inside Amy Schumer. Glaser has taken her love for reality TV to the next level by hosting her own HBO MAX reality dating series, FBoy Island. Previously, Nikki was flexing her over-sharing muscle as the host of Comedy Central's first live daily morning show, You Up with Nikki Glaser. Nikki's recent Netflix comedy special, Bangin', was included on Vulture's list of the 10 best comedy specials of 2019. And Nikki hosted, co-created, and executive produced the critically-acclaimed and daring comedic show Not Safe with Nikki Glaser.
In the summer of 2022, she is kicking off her nationwide comedy tour, One Night with Nikki Glaser.
VIP MEET & GREET PACKAGE
VIP Ticket to include:
1 Excellent Seat Location
1 Meet and Greet with Nikki Glaser after the show
1 Photo Op with Nikki Glaser